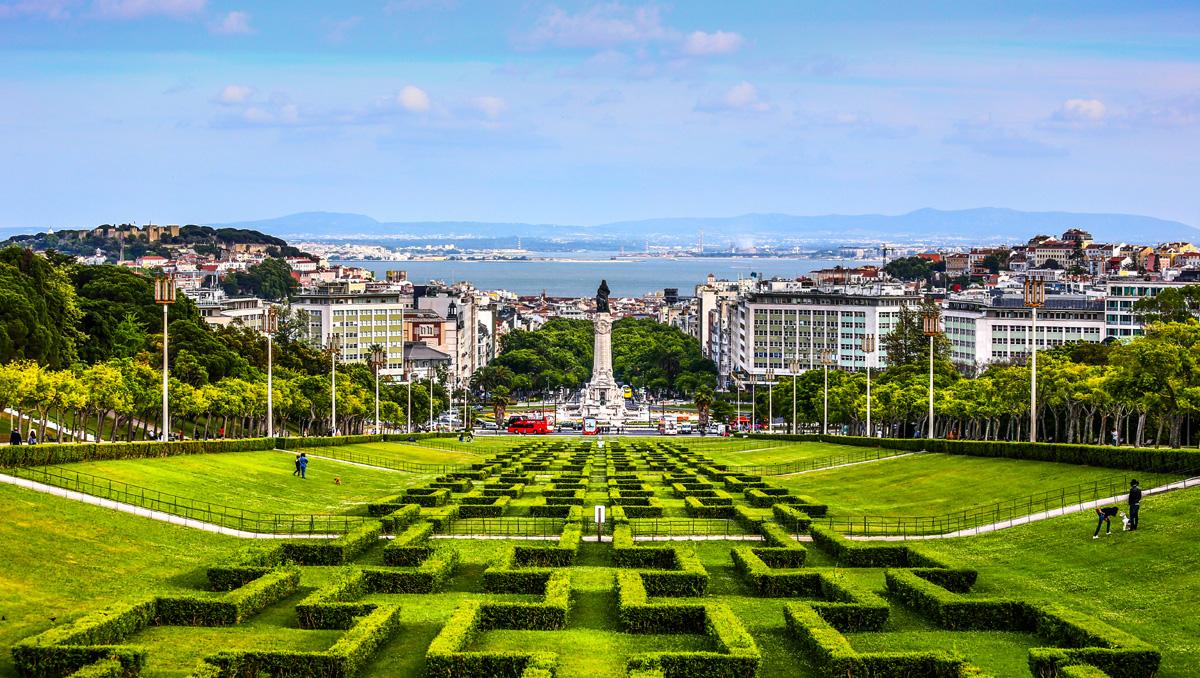 Top 5 Best Miradouros In Lisbon
09.08.2018
Lisbon is the sunniest capital in Europe and will make you love every single moment while exploring it. It is built on 7 hills which offer a scenic waterfront location with their breathtaking viewpoints also known as Miradouros.
According to Lisbon City Hall (Câmara Municipal de Lisboa), there are 16 official viewpoints, often with kiosks serving refreshments and beautiful gardens & terraces. Each of them will allow you to rest and admire the city from the top. All the viewpoints are available at all times so you can check them out whenever you want. You can also join us on our walking tour and visit some of them with us :)
Here you can find more about the 5 best Miradouros, essential part of your Lisbon experience!
1. Miradouro Sao Pedro de Alcantara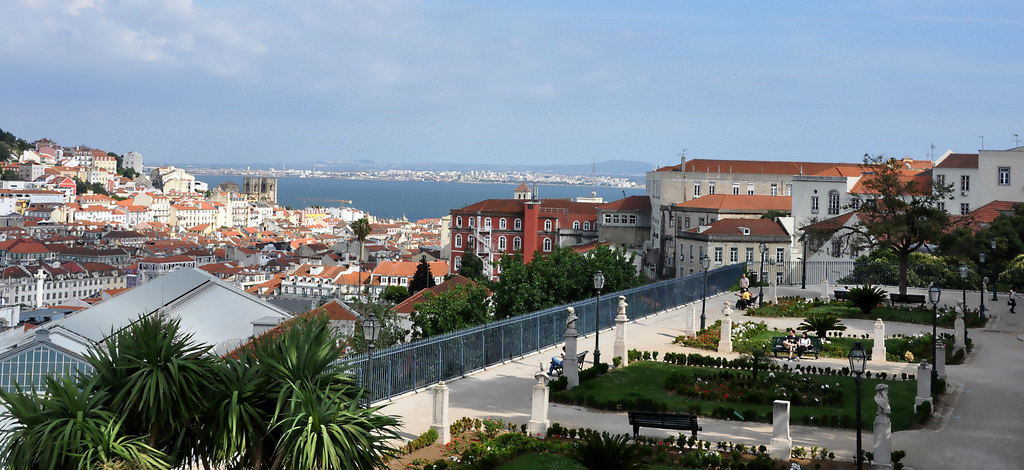 Situated in Bairro Alto district, right next to Elevator da Gloria and close to 16th century Sao Roque church, this is one of the most romantic spots in the city. From here you can admire San Jorge Castle on the opposite hill and the central Lisbon area. It is composed by two terraces with beautiful gardens and a kiosk where you can get food and refreshment. This Miradouro is one of the favourite of tourists and the perfect location to take great photos.
Location: Bairro Alto.
Address: Rua de São Pedro de Alcântara, 1200-470 Lisboa.
2. Miradouro de Santa Catarina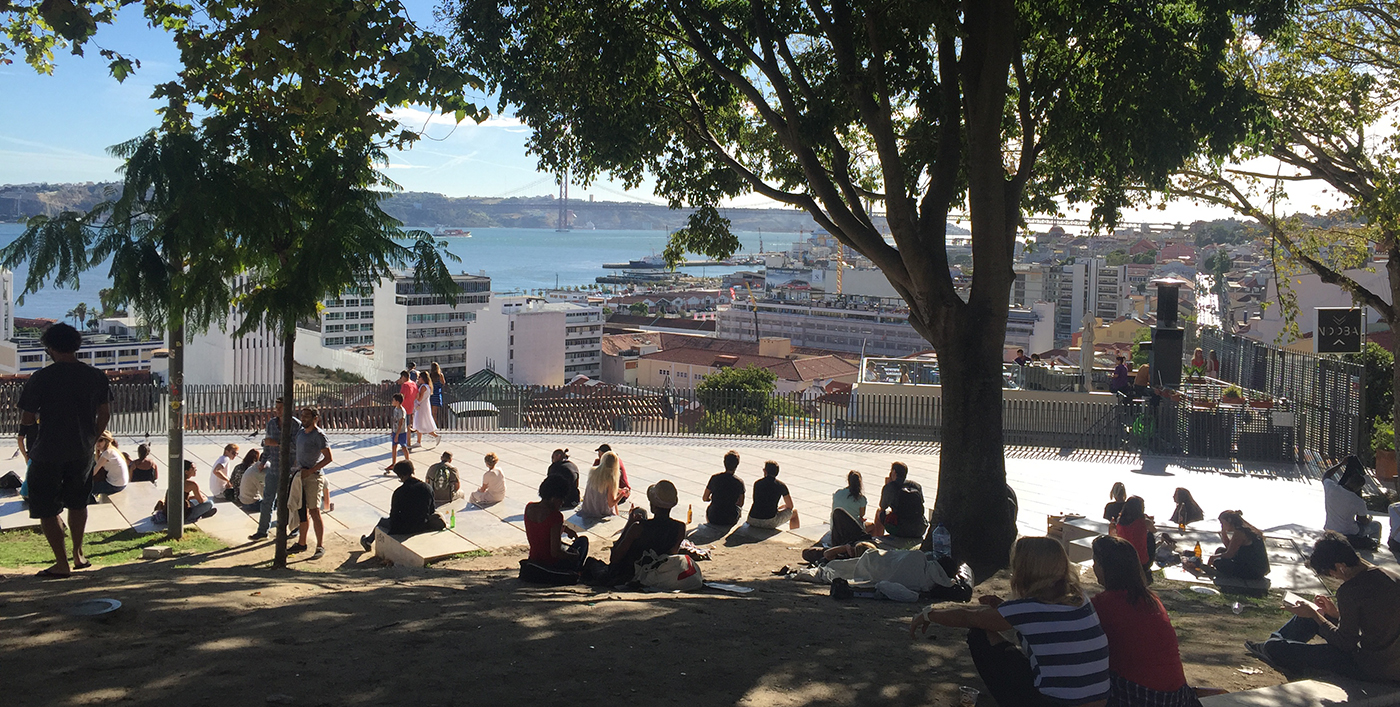 This often unknown location offers the best view of Lisbon port, the Rio Tejo, the Ponte 25 de Abril bridge and the Cristo Rei statue on the other side. It is located in Chiado district, close to Elevator da Bica. It's popular among Portuguese students who want to socialize in the evening, play music, drink a beer while enjoying the sunset in a relaxed atmosphere. Here you can find the statue of Adamastor, the mythical figure introduced by the poet Luis De Camoes to symbolise the Cape of Tormen, or Cape of Good Hope.
Location: Chiado
Address: Rua de Santa Catarina, 401, 1200-012 Lisboa.
3. Miradouro do Parque Eduardo VII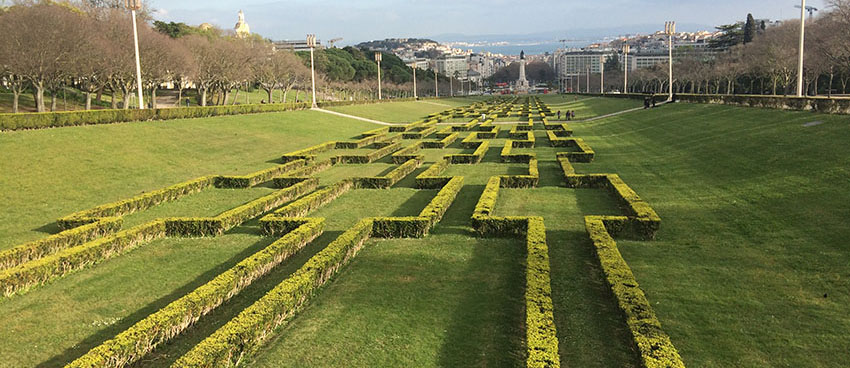 If you want to escape the crowd of tourists that usually invade the Miraduros and enjoy a different view of the city, this is perfect for you. The terrace is located on the hill above Marques de Pombal square, in the modern area of Lisbon, and has a beautiful view of the downtown seen from between two hills, the Avenida de Libertate and the river Tagus. Surrounding it from every side is the biggest park of Lisbon, Parque Eduardo VII, with fountains and a botanic garden, Estufa Fria, perfect to relax, read a book and enjoy the sunset.
Location: Marques de Pombal
Address: Alameda Cardeal Cerejeira, 1070-051 Lisboa
4. Miradouro das Portas do Sol

This Miradouro is one of the most photographed and loved of the city. It offers a stunning view of rooftops, towers and domes of Alfama, the oldest historic neighborhood of Lisbon, and the waterfront. It's only few minutes by walk from another well-known spot with a similar view, the Miradouro de Santa Luzia, but from here you can also see the National Pantheon and the 17th century Sao Vicente de Fora church. This terrace is perfect to relax, have a drink or a snack at the spacious and comfortable café and enjoy a sunny day or a gorgeous sunset in the evening.
Location: Alfama
Address: Rua São Tomé 84A, 1100-563 Lisboa
5. Miradouro de Nossa Senhora do Monte

This Miraduro is situated on the highest hill of Lisbon and offers a unique panoramic view of almost the entire city. It is equipped with a panel to help identifying the main monuments and streets. It is considered as the most romantic viewpoint where to admire the best sunset. It used to be popular for young lovers as it is hard to get to. So it's definitely represents a quiet place with a chilled atmosphere, as it is less visited than the other Miradouros of the city.
Location: Graca
Address: Largo Monte, 1170-107 Lisboa
You may also like